At Dexter Family Eye Care we specialize in the treatment of dry eye. Dry eye syndrome is one of the most chronic and common problems that we treat at Dexter Family Eye Care. There are many ways to treat dry, some of which include topical treatment, at home cleaning of the lids and lashes and many other things that our doctors may recommend. The Dry Eye Treatment Room and Spa is just another one of those tools.
In the treatment center, we will treat patients with evaporative dry eyes or Meibomian Gland Dysfunction. This service can be used in conjunction with any medical eye treatments that our doctors recommend. Your eyes will feel refreshed and you will get intermediate relief from dry eyes following treatment. The average patient can expect approximately three months of relief with one treatment, this may very depending on severity . After the treatment the staff will give you step by step instructions on how to prolong the effects of treatment with simple things that an be done at home.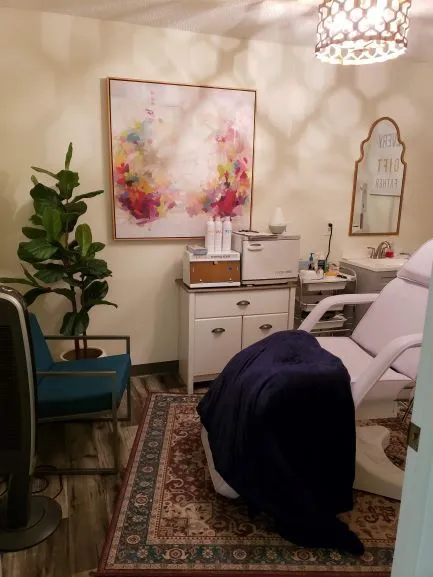 Intense Pulsed Light Therapy | DRY EYE DISEASE TREATMENT PROCESS
Intense Pulsed Light is a light-based treatment for the skin-gland disease of Meibomian Gland Dysfunction. Inflammatory skin diseases are characterized by the formation of vascular abnormalities which release inflammatory agents. Inflammation is the main cause of Dry Eye Disease.
Abnormal blood vessels cause inflammation and constriction on the meibomian glands, restricting the glands and causing the meibum to congeal. During this four treatment process, the abnormal blood vessels will be sealed with the light. The inflammation of the walls of blood vessels will reduce and the carbon bonds of the meibum will break. This will allow for normal secretion of the meibum to return and will help to reinstate normal blinking.
After the third and fourth treatments, the meibomian glands return to their original function and provide extreme relief for the Dry Eye Patient. This procedure is a preventative way to treat Ocular Rosacea and fall out of meibomian glands.
What to expect
Dry Eye Patients can expect to see symptomatic relief as early as the first treatment, to as late as the third treatment. It is imperative to continue treatments until a full four treatments have been finished. Other benefits that may result as a side effect of the treatment include:
• REDUCTION IN BACTERIAL LOAD AND DEMODEX ON THE LID AND CHEEK AREA
• REDUCTION IN FINE LINES AND WRINKLES, while stimulating the production of collagen levels • REDUCTION IN RED AND BROWN SPOTS DUE TO AGING AND VASCULARITY
• REDUCTION AND CLEARING OF ACUTE AND CHRONIC CHALAZIA
POST-TREATMENT CARE
After treatment, the patient may feel a warm sensation, including potential redness of the skin.